People of Indonesia's founding fathers had died. Two people who proclaimed Indonesia's independence is Ir. Soekarno and Hatta had long since left us. They both not only contributed to the conditions in Indonesia today, but also known as the character levels of the world. They are cherished by the people of Indonesia, is also respected and remembered by the world leaders.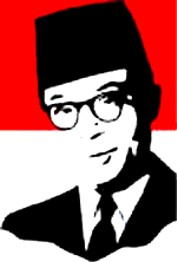 History of Indonesia is not a happy history, more than 350 years the Indonesian nation colonized by other nations.
Starting from the Dutch, Portuguese, United Kingdom and Japan.
The Netherlands is the longest colonized Indonesia, and most recently Japan.
Although later there is still such thing as an ally.
This is indeed a sad history.
The long struggle of this nation have been taught to offspring nation to be able to take a valuable lesson.
As a great nation, and wide and separated by the sea and strait, Indonesia became a nation that is able to embrace the various cultures, the island and the mainland, the arts, ethnic and many different beliefs.
Many heroes who have fallen for it, including two people who proclaimed Indonesia's Independence.
Indonesia proclaimed its independence on 17 August 1945.
Therefore, each dated August 17, the whole Indonesian people will solemnly commemorate the historic day.
Includes two great men are remembered.
Here's the song lyric 'Bung Hatta by Iwan Fals' :
Bung Hatta
Tuhan…
Terlalu cepat semua
Kau panggil satu-satunya yang tersisa
Proklamator tercinta
Jujur, lugu dan bijaksana
Mengerti apa yang terlintas dalam jiwa
Rakyat Indonesia
Reff :
Hujan air mata dari pelosok negeri
Saat melepas engkau pergi
Berjuta kepala tertunduk haru
Terlintas nama seorang sahabat
Yang tak terlepas dari namamu
Terbayang baktimu
Terbayang jasamu
Terbayang jelas jiwa sederhanamu
Bernisan bangga
Berkapan doa
Dari kami yang merindukan orang
sepertimu
So beginning of the song 'Bung Hatta by Iwan Fals'. a succinct statement about losing a loved one.
'God ... Too fast all. You call the only remaining .Proclaimers beloved.'
on the other side, Iwan Fals as representative of the entire people of Indonesia expressed his sadness. Raining tears from all over the country. Yes indeed, because of people leaving our beloved forever.
'Tears of rain over the country.
We let you go.
Millions head bowed sadly.
It struck a friend's name.
Are not separated from your name'
as in the previous article about Iwan Fals (read:
Who is not familiar with Iwan Fals?
), he is a man who has struggled through music. He praised the praise he deserves, but also to provide criticism on things that need to get criticism.
'Bung Hatta by Iwan Fals' highly impressive as the songs country ballads, for you are not sure this is an Indonesian song or just ordinary music, but for people of Indonesia and especially who know very well about the history or the biography of a man named Bung Hatta
, of the song 'Bung Hatta by Iwan Fals' is a song that has meaning apart, have unforgettable memories.
And this song is really nice to listen to, as there is something that brings us to the peaceful conditions and situations.
To this 'Story in Indonesian Songs' said a salute to the people of Indonesia who named Virgiawan Listanto or better known as Iwan Fals.
This blog tags: Story in Indonesian Songs, Indonesian Song Lyrics